Start Getting Sophisticated
Monthly Membership
Get stronger, stay leaner, improve your core, and take the anxiety out of going to the gym with simple and effective programming designed by Ashleigh
Hello Lovely. Ashleigh here.
You might be surprised to know that I used to have a hard time getting my (big ole')booty to the gym.
This was, of course, before my curiosity was ignited by becoming a trainer, and perpetually stoked by years of studying all things fitness.
But maybe you are facing similar challenges to ones I experienced when I was struggling...
Fitness doesn't seem like your thing You're not one of those people who's inherently excited to pack your gym bag and run out the door. Ok, tbh this one's NOT me. But I have identified with every other one at some point in my journey.
You're not sure what to do and spend most of your time staring at what other people are working on and pondering your next move.
It just doesn't seem worth it You've been working out consistently and things don't seem to change much.
Your physique is constantly fluctuating and if you don't keep up with hours of cardio every week, things fall apart. Like, especially this one.
You're bored You love training but the usual routine is getting tired.
Things hurt and it seems like going to the gym is doing more damage
And/or you just really want to get to that place where you're finally content with what you're doing, how you're feeling, and how you're looking...
You deserve to own that kind of confidence.
And you can. All you need is the right program.
Which Is why I created the monthly membership
For less than the cost of that box gym membership you so dearly want to utilize, you'll get workouts that...
take the guesswork out You'll look forward to going to the gym because you've got work to do, girl.
are smart This stuff is backed by science and my 10+ years of experience working with all kind of clients and sought-after mentors.
are progressive You'll build foundational skills before moving to more complicated movements to avoid injury.
get you results you want With emphasis on healthy body composition, strength, and core stability; you're in the right place.
are fun We'll work on a new challenge each month like a fast running split or a headstand practice to guide our training.
All of these factors are so important for long-term success with your fitness goals. How do I know? I made all of the mistakes for you...
Ashleigh's Story
I told myself all of the same things you're probably telling yourself. That this stuff is easy, right? That I knew what I was doing and if I just got better at what I was already doing, I'd get there.
But, it didn't matter how GOOD I was. I was constantly fluctuating in both physique and confidence. Sometimes I felt great and sometimes getting dressed to go out could take forever. And in these tough moments, I'd make it worse; scolding myself with negative self-talk.
If you've been caught in this same cycle of ups and downs, STOP!
Cause the truth is, this stuff is hard. It's not your job to know everything there is know about fitness.
It's mine. And after facing my own shortcomings, I spent the next years learning from strength and conditioning coaches and physical therapists. I trained like a bodybuilder and powerlifter. I coached track and field and taught yoga.
At 30, I'm down two sizes from my most frustrated place, and I donated my "fat jeans" to charity long enough ago to forget exactly when. (Side note: DAMN! I was so mean to myself.) My weight has increased from 125lbs to 135lbs with muscle gain, but my pant size has consistently stayed the same.
And my clients have experienced the same results...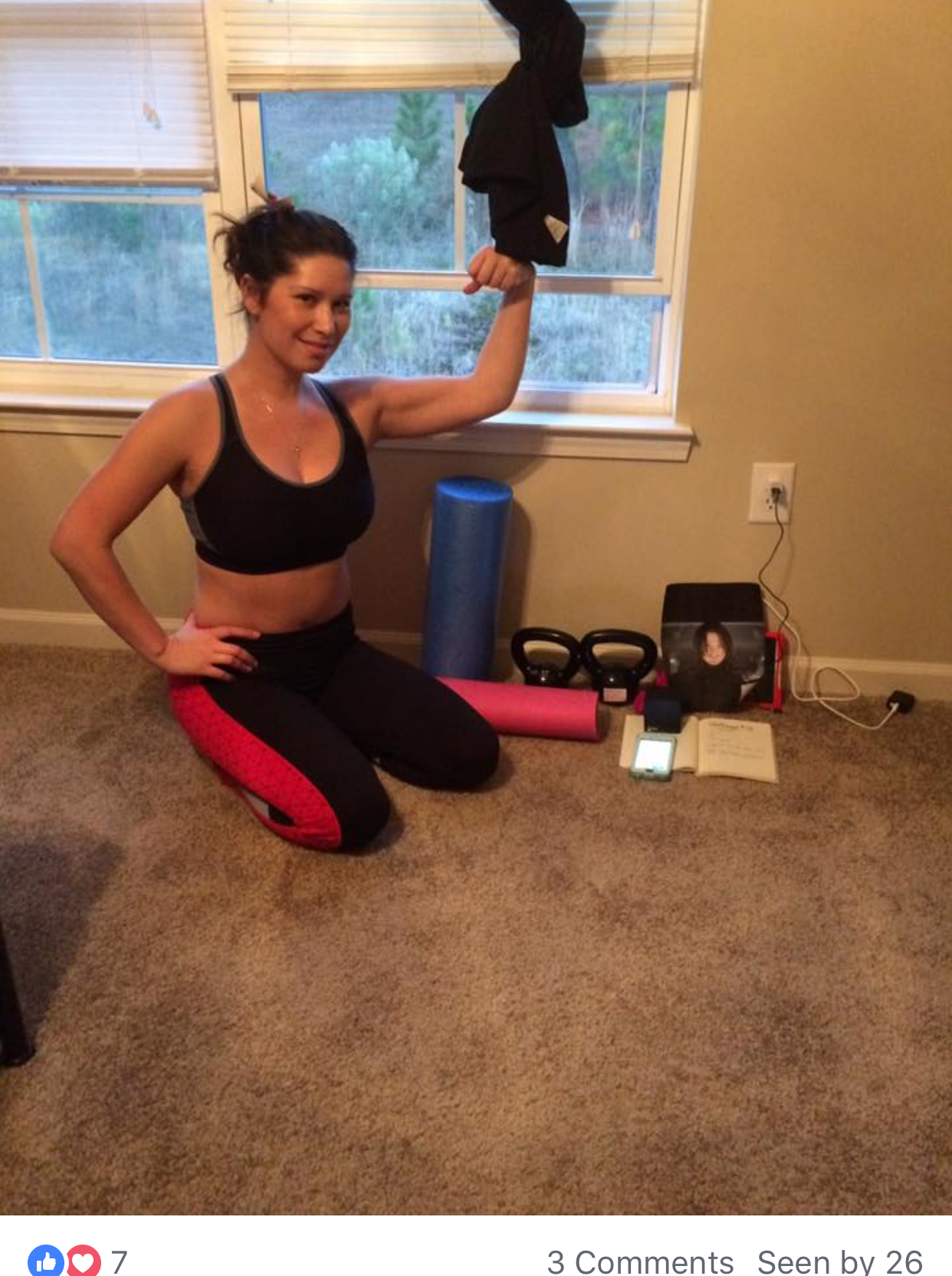 Here is a proud selfie! Lots of hard work has gone into my core. I am currently down 17 pounds. Also lost 6 inches on my waist and 4 inches on my hips. I have been so lucky to have motivation, enthusiasm, drive, and inspiration from my friend all the way in NYC! Ashleigh is always willing to answer questions, program new exercises, and follow up and be genuinely happy for the results; even when I was stressed out and needed a push. You're the best. Check out these baby abs!
-Libra
You can get There Too!
Sophisticated Strength MONTHLY MEMBERSHIP will work for you if...
You're a beginner I'll teach you the right way to lift to avoid injury.
You don't have a fancy gym membership Your basic budget gym will do.
You have some aches/pains or injuries I've worked with professional athletes trying to return to the field after some nasty issues. We'll talk about modifications for specific hurdles.
You're a seasoned gym-goer You'll build on your skills to take your training to the next level.
You're worried you won't stay motivated You're not gonna want to miss a single workout!
You want a better deadlift We've been talking a lot about fat-loss and the functional stuff, but your lifts will all improve as well!
You're afraid you can't keep up The workouts will stay posted for extra weeks in case you need time to catch up.
And of course, if you're afraid you can't afford it!
Girl, personal training is expensive. (And if it's not, its probably not very good.
Monthly Membership Program Costs
But, right now, I'm giving you the chance to join for just $47 a month.
Because for me, its never been about anything more than sharing what I know to help others. I believe that access to smart and effective training is a right, not a privilege.
Typically one training session with me can cost up to $250. And even my 1-1 online program is 5x the cost. But, you'll get a month of workouts and unlimited support for $47.
Monthly MembershipWhat To Expect
Access to our own MEMBERS ONLY portal where you'll view the workouts, connect with the group, and communicate with me. You can hang with us, or do your own thing. No judgement.
Strength training workouts that include videos, cues, and troubleshooting help.
Easy access to the program with the Sophisticated Strength app for iPhone and Android
Exclusive nutrition and lifestyle content to help you build healthy habits and maximize your results.
**And you can cancel any time. No long-term commitment necessary.
All this plus a stronger core, better muscle definition, more mobile joints, and a leaner physique?
Don't struggle any longer with your gym routine. Come play with us and learn how to take control of your fitness. Start getting sophisticated today.
Got more questions? E-mail me at ashleigh@sophisticatedstrength.com to make sure this program is the right fit for you!
The first round of training starts April 16th!